Please if you like CreditBurner program, we will be happy if you recommend it to your friends.
You can easy send CreditBurner link to your friends and they will come here. Share CreditBurner with your friends.


CreditBurner

This company doesn't pay now
THEY ARE SCAM SITE. STAY AWAY and check google for bad reports!

CreditBurner is new generation of PTP network (paid to promote). CreditBurner offers for its publishers huge amount of promoting ad types and ad formats (banners, links ads, treasure ads, treasure keys ads, interstitial ads, context ads, popunder ads, HVT ads ). Experienced webmasters knows what we talk about here. Publishers from all countries are welcome to join the network.

CreditBurner also has Gifts and bonuses feature. IF you are active than you might randomly get a Gift and if you are sending more traffic from certain countries you will get also financial bonus.

Payments are issued bi-monthly (2x per month), with minimum payout $2.50 to support payment processors (payment fee). Payments are sent via paypal. As a sign-up bonus you get $0.35 USD.



If you have a friend that you would like to recommend this page to, or if you just wish to send yourself a reminder, here is the easy way to do it!

Simply fill in your name and e-mail address, and the e-mail address of the person(s) you wish to tell about CreditBurner, and click the SEND button.

If you want to, you can also enter a message that will be included on the e-mail.

After sending the e-mail, you will be redirected back to the page you recommended!


Make $100s per day by sharing links.

BEST Pay Per Click with high CPM rates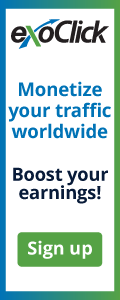 Monetize adult traffic or movie sites