Please rate eDomz affiliate program.
Your opinon and rating of eDomz will other webmaster help to decide to use this program. You can also leave comment on eDomz program and rate it.


eDomz

This company doesn't pay now
EDOMZ.com is a CPV network, which means every unique active visitor you get in your site, you can earn money from that, just by having their CPV code in your website, which opens a pop ads and does not annoy or redirect your visitor. It is very old and well known reputable CPV network, which pays their publisher regularly on time. It pays only with minimum of $5. There is list of countries which might generate income for you. The average CPM is $1-$2 but can be higher depending on your visitors. You can use Popunder code and get paid per view (CPV) or XML search engine integration. You can also use search box and you get paid from each search made on your site.
VOTING FOR eDomz affiliate program.
Please cast your vote for eDomz between best or worst.





BEST Pay Per Click with high CPM rates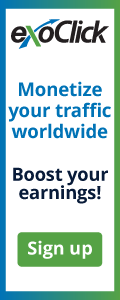 Monetize adult traffic or movie sites