Please rate PayPopUp affiliate program.
Your opinon and rating of PayPopUp will other webmaster help to decide to use this program. You can also leave comment on PayPopUp program and rate it.


PayPopUp

This company doesn't pay now
IT WAS NICE BUSINESS WITH THEM BUT RECENTLY THEY CHANGED DOMAIN AND NONE OF THE REFERRALs WERE NOT TRANSFERRED SO ALL THE LONG TIME WORK IS LOST. NEW PROGRAM HAS NO REFERRAL SYSTEM SO I AM NOT EVEN GOING TO SUGGEST IT.

We pay you up to $1.70 for every 1,000 RAW pop-under advertisements (equivalent to average $7.5 per 1,000 Unique visitors). Furthermore, when you refer other webmasters to join this program, PayPopUp.com will also pay you up to 20% of whatever they earn, and those referrals will run 5 levels deep! Many of the webmasters in our plan make a healthy supplemental income from this very discrete form of advertising and if you would like to give our program a try with absolutely NO obligation.
VOTING FOR PayPopUp affiliate program.
Please cast your vote for PayPopUp between best or worst.





BEST Pay Per Click with high CPM rates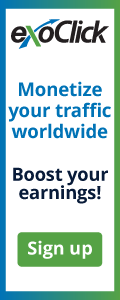 Monetize adult traffic or movie sites